DABOV Specialty Coffee's experienced coffee hunter Jordan Dabov has not chosen by chance the Brazilian pearl – Brazil Alianca from Mogiana for your cup
Already enchanted by the world-famous coffee region in Brazil – Mogiana, Jordan visits it at least once a year since he has discovered
Fazenda Aliança
where our
Brazil Alianca
coffee is produced. Although there are many interesting coffee growing farms in the state of São Paulo, it is hard to find another one that stands out like Aliança.
Excellent conditions for growing Specialty Coffee
Owned and run by Renato Ishikawa, a Brazilian of Japanese origin, the farm spreads to 200 hectares, located on an average of 1,000 m above sea level. When visiting Aliança for the first time, Jordan was impressed by the fact that even though the plantation originates from 1882, it was only when Renato-san took the farm in his own hands in 1995 when the farm became synonymous with Specialty Coffee. As a matter of fact, the owner of Aliança initially approached the world of coffee as a hobby because he was already a successful entrepreneur in another area. But he soon realized that his land is blessed by extremely favorable coffee-breeding conditions – something that Jordan also noticed – fertile soils, numerous water sources, hilly terrain, and mild climate. That is why Renato dedicated himself to coffee with all his heart.
Fazenda Aliança is synonymous with sustainable development
Fazenda Aliança's coffee is grown in line with the rules of sustainable development and social responsibility. What makes it unique, though, is its rich know-how and production practices with which it has become a role model all over Brazil. Natural resources are used rationally, for example, wastewater from the processing of coffee is recycled. Environmental projects are being developed to conserve biodiversity in the region, as well as social initiatives that gradually improve the lives of farm employees.
Renato shared with Jordan that even though he is first and foremost a businessman who should be concerned with the profit from all his endeavors, he cherishes clean air, uncontaminated water, and birds' songs in the afternoons in Fazenda Aliança. The RFA and UTZ certificates are a proof of the sustainable development of the farm.
Quality coffee mainly exported to Japan
Fazenda Aliança mainly produces Arabica Catuaí, known for the sweetness in its taste. During many of his already habitual visits, Jordan witnesses the harvesting and processing of coffee on the spot – 60% goes through dry processing. All types of coffees that Jordan has tasted have different characteristics but are united by their high quality. It is no surprise that more than 90% of Aliança's highest quality production is sold every year in Japan. But despite the competition, DABOV Specialty Coffee manages to secure about 10% of this unique coffee. How is this possible?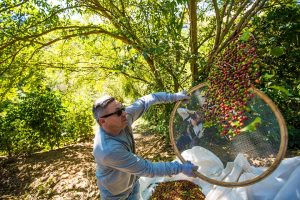 DABOV Specialty Coffee has secured special conditions from Aliança
After numerous visits and talks with Renato-san, Jordan have chosen the variety, the location, the colour of the cherry at the time of picking, the maturing period (our coffee matures much longer than the other and is waiting for a certain moment of maturity), the processing method of coffee and how the coffee to be dried and packed. When such a personal commitment between a manufacturer and a buyer, the client can be sure that he will receive a coffee of superior quality.
What is the taste of the Brazil Alianca's coffee?
The very first delivery from Fazenda Aliança left everyone in DABOV Specialty Coffee showroom and café pleasantly amazed and delighted. We could only agree with Jordan's notes in his diary, taken when he first tasted
Brazil Alianca
: "Very easy drinkable coffee, start and finish – very sweet. I recommend this coffee to coffee lovers with sweet and mild acidity preferences. Easy, daily cup of coffee."
Then, it was up to our roaster to find the perfect roasting profile to highlight the characteristics of Brazil Alianca coffee without compromising their harmonious integrity in taste. The task was challenging because the notes of the typical Brazilian sugar cane in the taste proved to be difficult to capture and highlight. But at last, perfection has been achieved. We offer you a cup with predominant notes of chocolate, raisins and sugar cane, and a milky aftertaste.
Did you know that…
The name of Renato Ishikawa should not surprise you – yes, he is a Brazilian of Japanese origin. As strange as it may seem, the largest Japanese immigrant community lives in Brazil of all places. The first emigrants from the Land of the Rising Sun landed in Brazil in 1908 precisely to meet the needs of workers in coffee plantations and fleeing hunger in their homeland. Many of them never went back and instead settled in the state of São Paulo.