You can already taste Gems of Araku competition finalists, including the winner of the grand prize!
We are extremely happy that now we can already offer you the first Indian coffees in Dabov Specialty Coffee's catalogue. And just what cofees they are! We are speaking of the winner of Gems of Araku 2020 Indian specialty coffee competition and three more coffees among the top 5 finalists!
You may recall that our coffee hunter Jordan Dabov was among the few international judges last year, who evaluated the exotic and, as it turned out – extremely high quality and delicious Indian Arabica. He visited India in Fenruary 2020 and he managed not only to participate in the jury but also to secure the four coffees he was most impressed by. Those are among India's best specialty coffees for 2020, after all!
And we guarantee you that you will be impressed by them as well!
Let's talk about the flavors of those four among India's best specialty coffees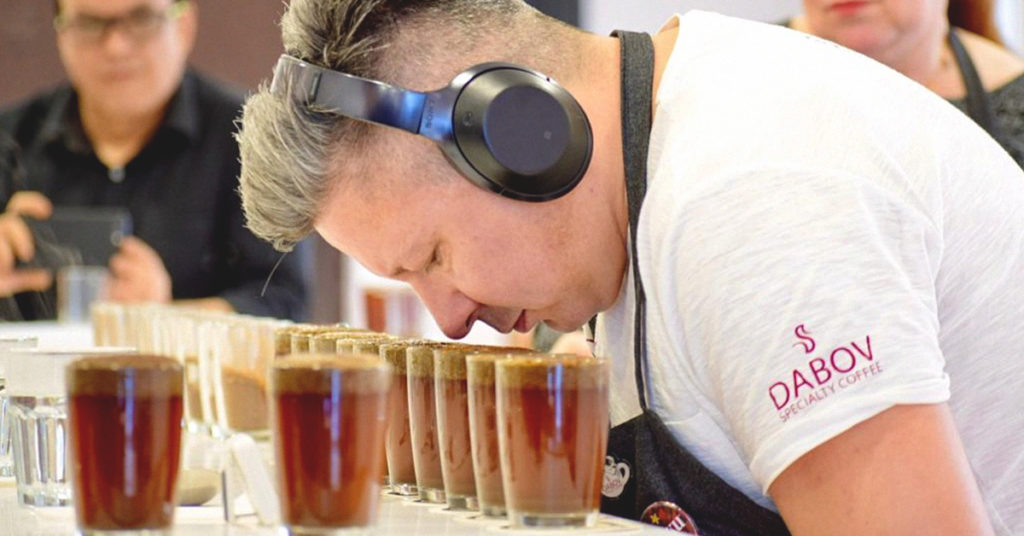 The first prize winner of Gems of Araku 2020 Indian specialty coffee competition, India Winner Gems of Araku 2020 – Organic comes with a conquering taste of juicy kiwi, delicious cake and fresh passion fruit. Jordan Dabov has also sensed all-favorite chocolate together with fruity notes of apple. The international jury shares the opinion that this coffee has all that it takes to be an absolute winner and proves the fact that the best specialty coffees of India are produced in the Araku valley. India Winner Gems of Araku 2020 – Organic comes under our golden label.
India Lot 1 Gems of Araku 2020 – Organic is so close to perfection! This is the second best coffee in Gems of Araku 2020. It is also one of the tastiest, assures us Jordan Dabov. Its flavor is of freshly baked croissant, sweet roasted banana and jammy persimmon. This coffee is sweet as heaven and you can even find delicate berry notes in it.
India Lot 7 Gems of Araku 2020 – Organic is rightfully the third best coffee from the competition. We bet you will be enchanted by this superb creamy coffee's flavor with notes of Swiss chocolate and a hint of fresh wild blueberries. Have we mentioned sour cherry? Can you imagine the perfect balance between the sweet chocolate and the fresh fruits?
Imagine a coffee as sweet as dried apple, as fresh as lemon peel and as spicy as sweet ginger… This unique flavor comes with the fifth best coffee in Gems of Araku 2020 – India Lot 2 Gems of Araku 2020 – Organic. In his competition cupping diary, Jordan Dabov has also noted floral notes, berries and spices.
Our Box Indian Coffees includes the three finalists in Gems of Araku
Now you can order our special Box Indian Coffees and taste all three finalists in the competition! In it we have added a gift – Cupping Diary (only in Bulgarian) where you can put down in words what flavor notes you have sensed.
India Lot 7 Gems of Araku 2020 – Organic, India Lot 1 Gems of Araku 2020 – Organic and India Lot 2 Gems of Araku 2020 – Organic are among our exlcusive black label coffees. If you have forgotten what are the typical flavors behind every label, check out our article!
The roast level of all four Indian coffees is light. Thus, we believe, we have preserved all their rich taste characteristics. All you have to do is brew them with your favorite method, and then experiment with a different method and then with another … and enjoy those great coffees in all of them!
What is the variety of the four India's best specialty coffees
The four coffees are of Selection 9 variety. This name may sound unfamiliar to you, but it it the most typical Arabica coffee variety in Araku region. It is a Timor and Tafarikela hybrid, selected by the Indian Central Coffee Research Institute (CCRI).
The institue found ut that Selection 9 is more resistant to leaf rust under field conditions.
The coffee bushes of Selection 9 are tall and vigorous. Their leaves are broad and elliptic. Coffee cherries are dark red, oblong and large. They group 12 to 16 per cluster and show early ripening. Beans are bluish-green, round, with 60 to 65% 'A' grade beans. And they produce superb quality with strong body and distinct flavor. Selection 9 survives dry periods and is widely adaptable in the coffee-growing regions.
Who produced the four finalists in Gems of Araku?
All four coffee are produced by farmers from indigenous tribal communities from the Araku Valley, Andhra Pradesh state. At the end of the 19th century, Englishmen brought in Araku coffee for the first time and since then it is among the crops. More than a decade ago, the largest social enterprise in India, Naandi Foundation, started operating in this region. Since then, they have implemented natural resource management techniques. This way they have helped farmers convert semi–wastelands into organic coffee plantations.
There are a number of coffee farmers in the Araku Valley. They have formed the collective Small Farmer Organic Cooperative Society (SAMTFMACS). Today, it includes 10,500 small farmers. Coffee in this region is selectively hand-picked and grown under shade by the farmers. This distinctive product combines top-quality Arabica flavour with a commitment to environmental sustainability and socio-economic empowerment. It is organic and child labour free coffee. Naandi takes care of farmers and pays special attention to the more vulnerable of them, women. They distribute the income from the coffee sale on each farm equally between women and men in the family.